Listen to this article...
Contemporary living room ideas are usually interesting and fascinating, no matter what your own personal style or taste of interior design is. If you don't consider yourself a "contemporary person," contemporary living room ideas may inspire your decorating choices – and they're always exciting!
To fully grasp what is possible with your contemporary living room you should know what contemporary design is…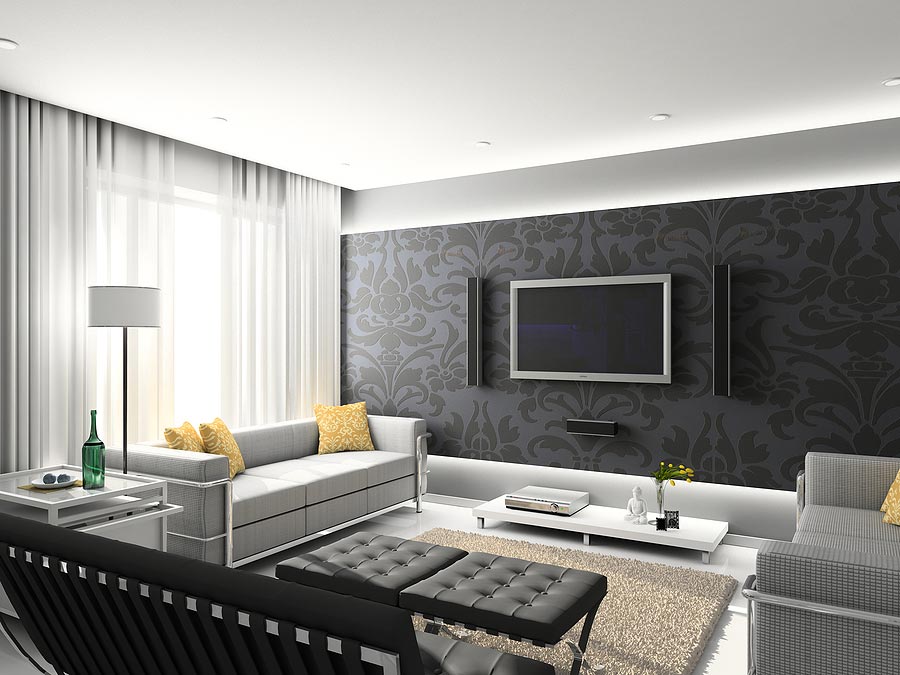 What is Contemporary design for home interiors?
In today's world, contemporary interiors are frequently defined as super minimalist with a focus on sharp lines, patterned prints, and glossy finishes and materials. It's referred to as daring and dynamic. It is praised for its use of lighting and reflections.
Contemporary design styles can be incorporated throughout all areas of your home including living room. Contemporary design is out there to inspire you in your daily lives.
All of this is undoubtedly true in today's interiors, but there are other levels to it than that. It's a design movement that symbolizes a break away from conventional décor and reflects the present moment.
he contemporary style is a term used to describe something fresh, unusual, and even disruptive in comparison to what we've seen before. Contemporary design is a term that applies to the last few decades and defines what's happened since postmodernism.
The Contemporary designs for living room should not be limited to the overall look of the space, but also encompass all aspects including furniture, accessories and colour choices. Contemporary living rooms typically have clean lines and uncluttered furnishings.
How Do You Design A Living Room In The Contemporary Style?
A contemporary living room may include a huge variety of elements in the room if you wish, Alternatively, if you only want to include a few contemporary elements to an otherwise traditional interior, you can simply choose one or two features to concentrate on.
However, it's essential to distinguish between a Modern living room and a one which is "contemporary". Modernism, because it is associated to the early 1900's is considered more rigid than contemporary design. Modernism is an umbrella term that encompasses everything from mid 20th century through Post-modernism.
Contemporary design is a term that has no fixed meaning, as there are many different movements with varying characteristics. Contemporary design is constantly evolving, drawing inspiration from various eras of design and fusing them into something fresh and innovative.
1: Contrasting Colour Scheme
The colour scheme you choose should be considered when developing a contemporary living room. It is a common misunderstanding that contemporary design focuses only on harsh white. A Contemporary living room always should have a distinct contrast in colours, even if you've primarily used white other complimentary colours should be chosen to deliberately stand out.
Contemporary colour palettes are powerful and like to play with creative tensions. That's part of their appeal, and what makes them interesting. Contemporary living room ideas usually come in a range of bold and pastel colours.
You can also work with the same colour, but introduce different tones. Contemporary interiors are not afraid to experiment with strong colours like reds and purples, as well as dark blues and greens – colours that can certainly stand out when used in the right way.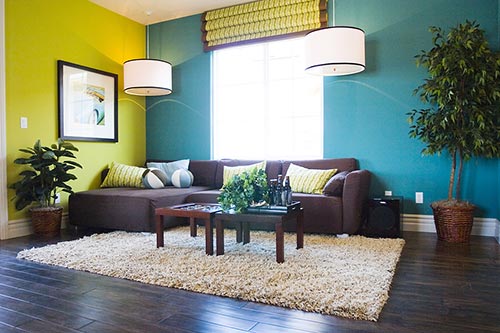 2: Use A Variety Of Different Lines
One of the most popular modern design characteristics is that lines must be clean and sharp at all times. In contrast, Contemporary style usually mixes sharp and subtle lines.
Contemporary interior designers generally avoid using too many angular lines or shapes because sharp angles make a space appear boxy and outdated. It's best to mix sharp lines with curved and soft lines.
Contemporary designs are known for their use of straight lines juxtaposed next to slightly curved ones. Contemporary homeowners can achieve the perfect balance between these different shapes in living room design Contemporary rooms do not shy away from harsh, hard looking materials like metal or stone, but prefer more neutral surfaces.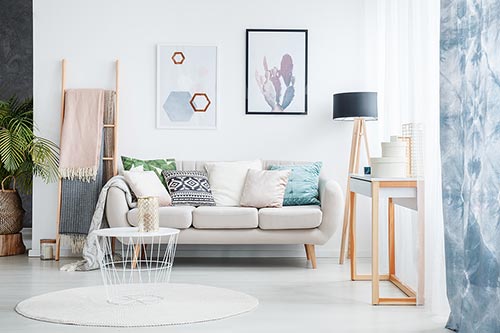 3: Make Use of Contemporary Furniture
A great way to bring that contemporary feel into your living room is the use of furniture. Contemporary furniture should be sleek, modern and minimal. Contemporary sofas are elegant with legs that taper towards the floor or have a leather look, Contemporary coffee tables are normally crescent or round shapes with glass tops. Contemporary armchairs and occasional chairs often have a sculpted look with smooth lines.
If you wish to bring in contemporary furniture, remember that it should be visually cohesive with the rest of your space. Contemporary sofas are often boxed-shaped or low-profile with minimal or no arms and loose pillow cushions. Contemporary chairs are often leaner with angular or soft curves. Contemporary tables are usually edgy, whether they are simple café table styles, art deco inspired pieces or more sculptural designs.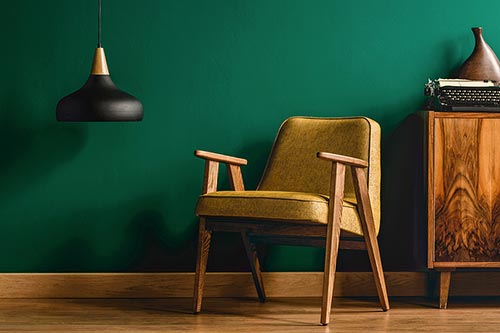 4: Use Metal To Accent Your Room
In contemporary-style living rooms, metal is not limited to tables and larger pieces of furniture. Contemporary living room ideas also use metal to accent smaller pieces of furniture or even wall décor. Contemporary lighting designs often incorporate unusual metals, which can be found in lamps and chandeliers.
If you prefer to stick with traditional light fittings, small accents like candleholders and picture frames should be metallic instead. Contemporary artworks are often created with shiny metal surfaces. Contemporary wall art can also incorporate metal in interesting ways, whether it's silver leafing on a side table or even having an oversized piece of shiny metal hanging in the corner of your room.
A gleaming gold vase or a cuff around a wall or clock, for example, are all ways to give your living space a contemporary edge.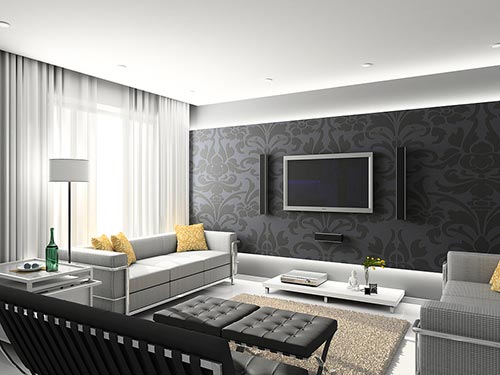 5: Use Different Textures
Regardless of the design style you're influenced by, one of the few rules of any room's decorating plan is texture. Even if you like minimalism in contemporary design, you'll need to incorporate multiple levels of texture.
Because it complements the rest of your décor, texture may be as little or as prominent as the rest of your decorating choices. Sleek and elegant metals, against supple leathers and matte, honed marble will provide you three distinct yet subtle textures to keep your attention engaged and your eye moving.
Texture isn't limited to what you can feel. You may also incorporate colour and lighting to create texture in your living room – anything that is visually stimulating and interacts with lighting.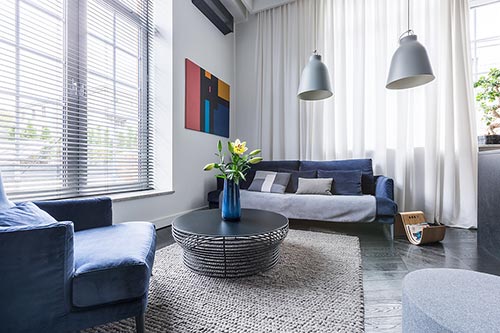 Like with texture, contemporary living room lighting ideas should flow from floor to ceiling, as they would in any style of space. Recessed spotlights are quite fashionable and work in every area, especially when combined with accent lighting.
If you want something more basic, try adding a sculptural pendant light that serves as artwork or an understated style that hugs the ceiling. Contemporary lighting is about a good mixture of floor and table lights, as well as wall sconces.
The important thing to remember is that you want to begin with listening to your room rather than going out and purchasing the first lamp or light fixture you see. Contemporary style includes layers, especially when it comes to light.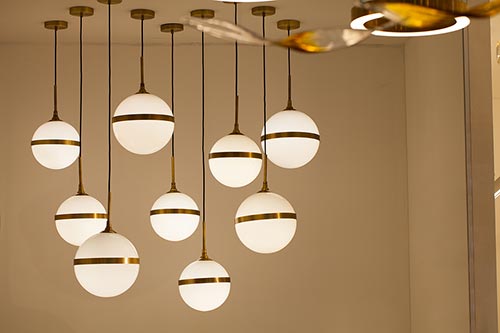 Contemporary living room ideas have a lot of unique features with contemporary colour palettes, contrasting lines, and sharp edges. Contemporary design is all about contrasts and layers, especially when it comes to light. Contemporary style is influenced by minimalism as well as different design movements. Contemporary furniture includes tapered or angled wooden legs that are exposed for a modern look. Contemporary living room lighting ideas include recessed spotlights, sculptural fixtures, and understated styles.