Bedding, pillows, lights, nightstands—whether you're a novice interior designer or simply want to make your own home more attractive, the bedroom may be a tough place to make it feel well-designed since it is all about cosiness and usefulness. Don't worry; here are some decorating ideas and suggestions that can help you transform this room into a more attractive and inviting place:
1. Use a muted colour scheme
The greatest colours to create a relaxing, comfortable bedroom are delicate colour schemes like neutrals tones such as whites and creams or a light colour palette including lavender and light blue. This does not imply that your bedroom needs to be uninteresting—if you adore vibrant hues, play around with different strategies to incorporate intriguing accents of colour. Try placing bold prints on your bedding, or decorating your walls with a single bright colour that is toned down by a cream or white background.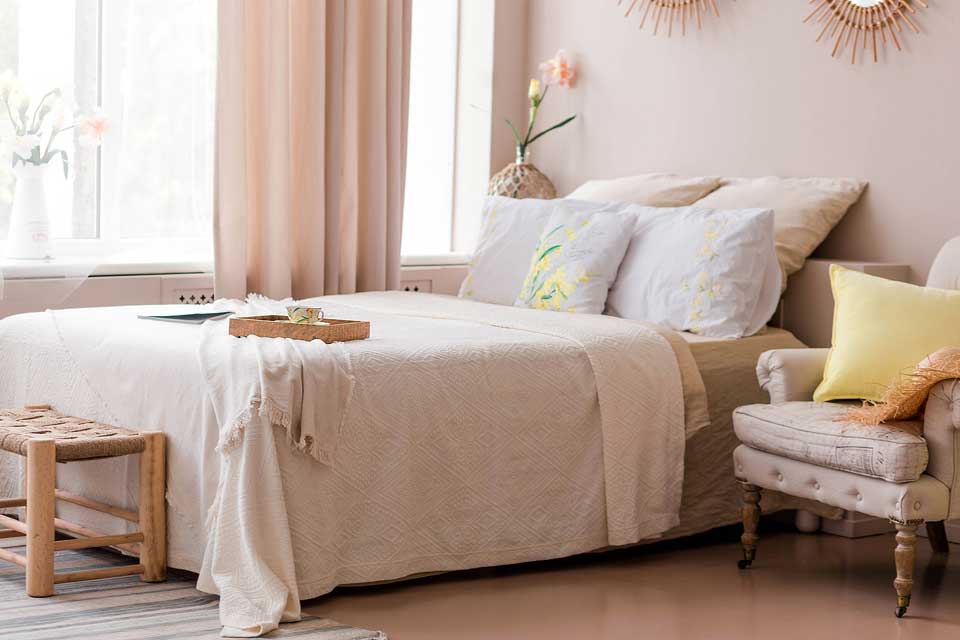 2. Make Sure you Have Plenty Of Space
One of the most effective methods to create a restful and relaxing atmosphere in your bedroom is to concentrate on how easily you can walk around the floor space without getting claustrophobic. Try to minimize the number of unnecessary bedroom furniture in your room so that you don't trip over bookcases or coffee tables, or struggle past nightstands to get to your bed.
This is particularly essential in tiny areas and modest rooms, since the space is so tight that you need to ensure you can breathe. Consider adding drawers beneath your bed if you're having a tough time.
3. Get Rid of the Clutter!
It is really wonderful to look at an attractive bedroom but, believe me, this becomes very difficult whenever you struggle through clutter and muddle to find your favourite clothes or make-up. Additionally, it can be hard to create a sense of comfortable calm when you cannot locate your favourite pillow because it has been buried under a pile of dirty clothes for months! Keep your bedroom totally free from clutter—accumulate your miscellaneous stuff like clothes and shoes in closets, cabinets and baskets to make certain that you can enjoy the best looking bedroom ever.
4. Choose The Right Furniture For Your Room
Ease of movement is an excellent indicator of whether your bedroom is cluttered, but how it looks is just as essential. A tiny bed frame with no headboard, for example, will appear much lighter than a chunky bedframe with a big headboard.
Consider the visual weight of each item when buying furniture for your bedroom. Consider a little bedroom floor plan and a light-looking bed; in a large master bedroom, choose a tall headboard or big piece of wall art to bulk up the space and draw the attention upward.
Don't worry too much about a beautiful, attention-getting centrepiece, if you're running out of room, make your bed the main attraction. A wall mirror can be a wonderful way to shift the balance of any space visually.
Instead of depending solely on your ceiling light or a table lamp, it's a good idea to layer the lighting in your bedroom, which means utilizing several different light sources that you can switch on and off for optimum function and cohesion. You don't need a chandelier to layer your lighting—consider the many easy light sources available to you in your room, like accent lamps and dimmers to control the mood of your lighting. Think about using a floor lamp by your bed if you need to read before sleeping.
6. Add Textures And Details To Your Bedroom
Aside from strong paint hues or soft textile choices, consider adding textures or details to your bedroom design. For example, you could use a variety of textures to soften the appearance of hard surfaces or go for a graphic look with scatter rugs or stylish but inexpensive vinyl decals.
Details like wall graphics, artwork and lighting are also an option, as they can change the light in any room considerably. The right small touches can make all the difference in your bedroom.
7. Don't Forget The Ceiling
The ceiling is the largest clean surface in your bedroom, and most amateur home decorators overlook it—so it's a huge untapped potential in any space. If you want to add a unique touch to your bedroom, consider painting or wallpapering it with a delicate colour or design. You could even have a moulded ceiling installed if you're going for a truly polished look.
8. Try Something Different
As you may have guessed, your bedroom is a personal space and there's no limit to what you can do with it. Go wild! If nothing else, your bedroom should be your sanctuary, the place where you can relax after a long day or take some me-time. You can have so much fun with your bedroom design, so don't be afraid to experiment with colour or texture.
One of the best ways to make the most of your bedroom is to maximise the storage space. Fitted wardrobes are the perfect way to ensure that your bedroom is free from clutter.
While fitted wardrobes are the easiest way to store clothes, take advantage of all your storage space, look into drawer chests or cupboard options that will give you additional room to organise your clothes and accessories.
When planning your bedroom design, maximising space is crucial.
Plants in your bedroom can be a great idea, they not only look great by adding colour to you bedroom but also clean the air you breathe. Most people think that having a lot of plants in your bedroom can cause damage to them or look untidy but there are some really low-maintenance options. Hanging plants are a great option, especially if you have a roof or space above your bed.
There are other types of plants which can add interest to your bedroom such as aloe vera, snake plants and peace. By adding plants to your bedroom you may also sleep better too, as the air in your bedroom will be cleaner.
The article gives 10 different ideas on how to decorate your bedroom in 2022. Some of the ideas include using lighting cleverly, adding textures and details, and using plants. Fitted wardrobes are also recommended to maximise storage space. Overall, the article provides a range of different ideas to help you personalise your bedroom.