Many houses' main features are the kitchens, and they're frequently among the most costly areas in the house to renovate. Don't be surprised if the total cost of your kitchen cabinet and equipment is more than £1,000. Kitchens are frequently one of the first rooms to be updated after a home has been purchased, whether because they are in desperate need of renovation or because they simply don't appeal to the current owners' aesthetic preferences.
Developers of residential homes are well aware that a high-quality kitchen may significantly increase the value of their properties.
There is a more cost-effective option for property owners working on tight budgets who are looking to replace their kitchens rather than re-paint them. The following are a few of the advantages of having your kitchen cabinets painted, as well as an explanation of how it is done:
The Advantages of Kitchen Respraying
Cheaper than replacing your kitchen with a new one.
The most common reason for re-spraying a kitchen is the significantly reduced expenses. Replacing your entire kitchen maybe thousands of pounds, especially if you include the cost of hiring a kitchen installation firm to remove and dispose of the old one. New kitchen countertops, cabinetry, doors, and drawer linings will soon add up in price. The cost of a new range cooker and hob (not including installation) is calculated separately.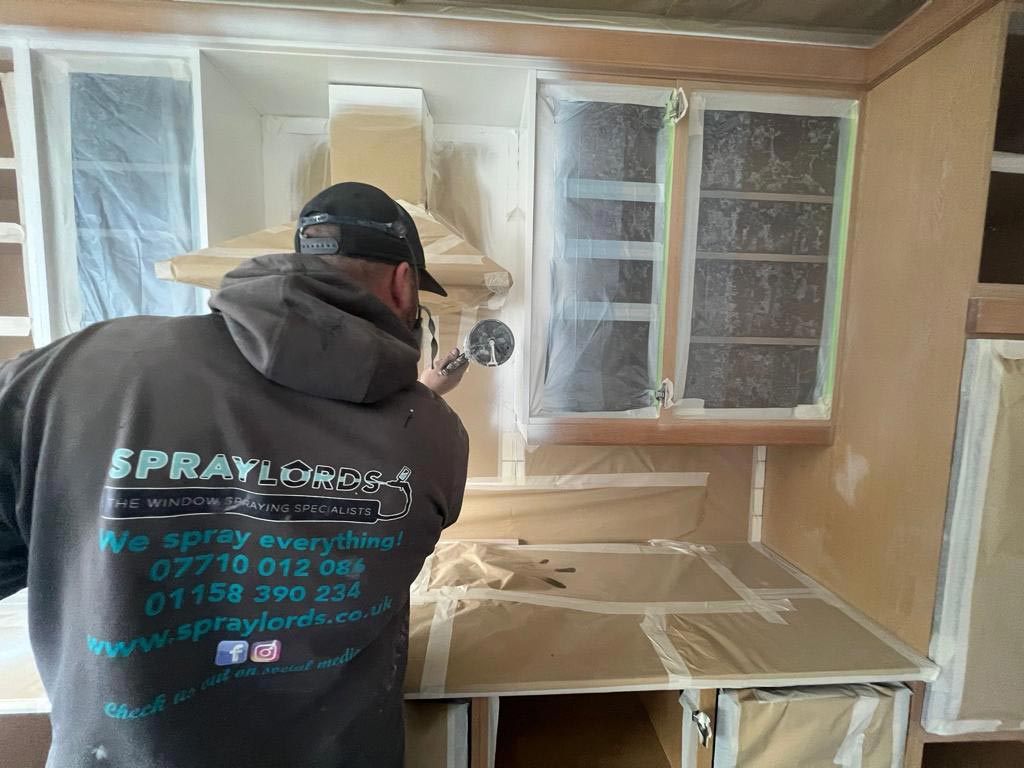 "The price of your new kitchen could vary from £5,250 for a small budget kitchen renovation to £10,550 for a large kitchen renovation."
This is a significant sum of money for many homeowners, and one of the reasons why kitchen spray applications are becoming increasingly common. It will be far less expensive to repaint your present kitchen than it would install a new one. If your cupboard doors and drawer fronts are in good shape, they may simply be re-painted.
Change the colour of your kitchen to something more modern.
Another important consideration is that consumers simply want the units to be painted in different colours; there are many options when it comes to having your kitchen re-painted, so colour matching shouldn't be an issue. The most popular hues are those in the RAL colour family, but Farrow & Ball now offers more fashionable higher-quality colour choices.
The use of white, black, and blue is growing in popularity, as are shades such as Anthracite Grey or Dark Blue. They're a great investment for your kitchen's design at a low price.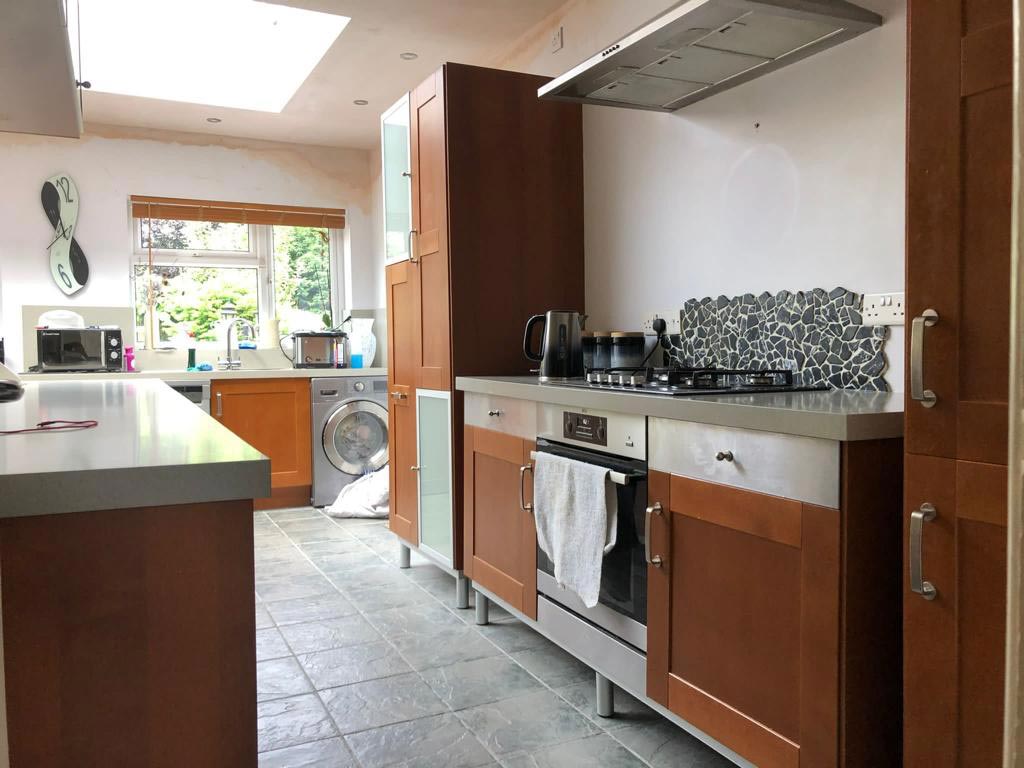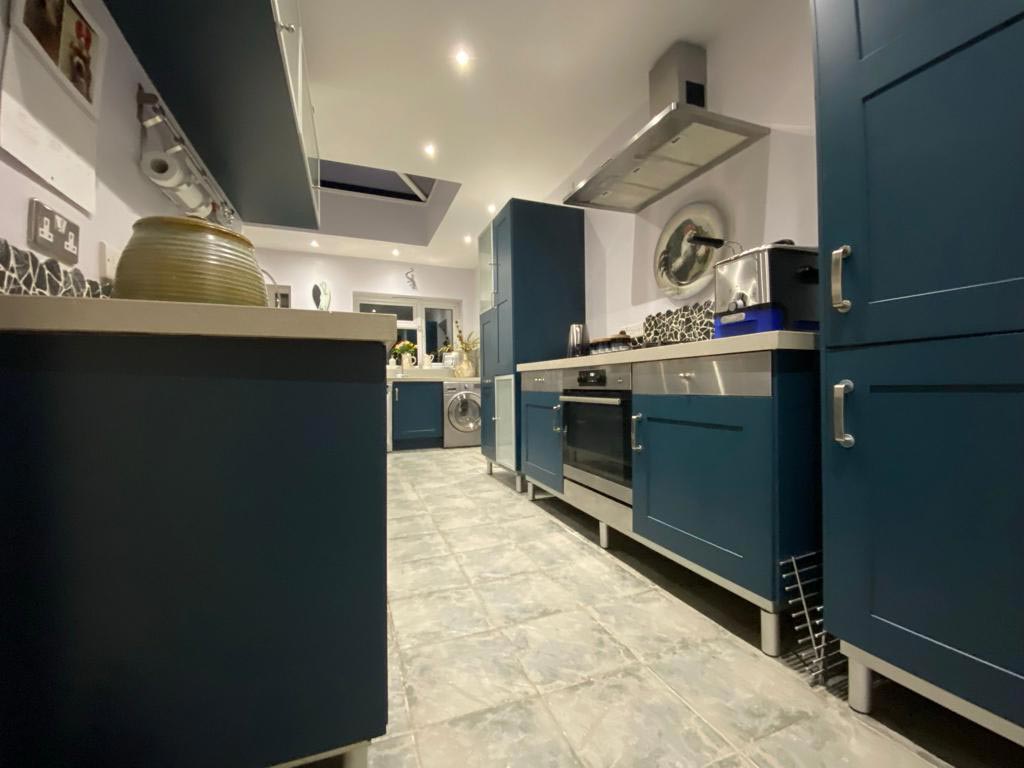 Faster than upgrading your entire kitchen
When it comes to renovating your kitchen, there are a few stages along the way, and one of the first is picking the style of kitchen units you like. Then the kitchen installation business will come to your house, take measurements, and create a drawing or plan. Once this is completed, your Kitchen Fitter will need several weeks to install and furnish your new kitchen units.
The old kitchen must be removed and thrown away while the new units are being delivered, leaving the home and homeowner with no usable kitchen.
There's also the time it takes to set up the new units after they've been brought in and your old one has been taken away.
Spraying is less disruptive than replacing.
If you decide to replace your old kitchen, there will almost certainly be a lot of dust. As the air circulates throughout your house, this dust may cover the surfaces in each room.
How will you cook your meals after you've gotten rid of your kitchen? Will you be subsisting on microwave meals and pot noodles? Washing dishes in the upstairs bathroom?
When it comes to kitchen spray painting, there is little mess since unit doors are removed and sprayed away from the home, and the only real mess comes from the masking films and paper employed to cover surfaces that don't require a new colour. The many masking materials may all be gathered in one bag and disposed of in your wheelie bin.
Respray Application Procedure
To ensure that all grime, grease, and dirt are removed from your kitchen doors and drawer fronts before applying spray paints, they must be totally clean. If you don't clean the surfaces first, the new colour won't stick properly and will peel off in a matter of minutes.
The doors and drawers have been removed, but the rest of the space has been masked.
After the doors and drawer fronts have been removed, they are sprayed. The actual unit carcasses, as well as the present countertops and feature panels, remain behind.
The doors and drawer fronts are coated offsite and then carefully reassembled onsite once they're ready. A kitchen spraying firm like Spraylords will continuously ventilate the room to avoid any fumes from entering other rooms in the home.
Spraying is the most effective technique.
Only spray applications provide a professional look when it comes to changing the colour of your kitchen. There are numerous DIY techniques on YouTube that utilize sponge rollers, but they pale in comparison with the finish you can achieve with a spray gun.