There's no denying that a kitchen island is a fantastic addition to any room with the space for one. If you're thinking about installing a new kitchen with an island as the centrepiece, read our guide to discover the different options open to you.
Why choose a kitchen island?
There are several reasons why you might decide to install an island, aside from the obvious aesthetic factor! You might be looking to create extra workspace, or you may want to relocate your cooker/oven or even add a new one. Alternatively, you could require extra storage space, or the ability to accommodate extra guests at dinner parties.
Whatever your reason, it pays to speak to a kitchen design expert about your needs to make sure you get the right island for your home.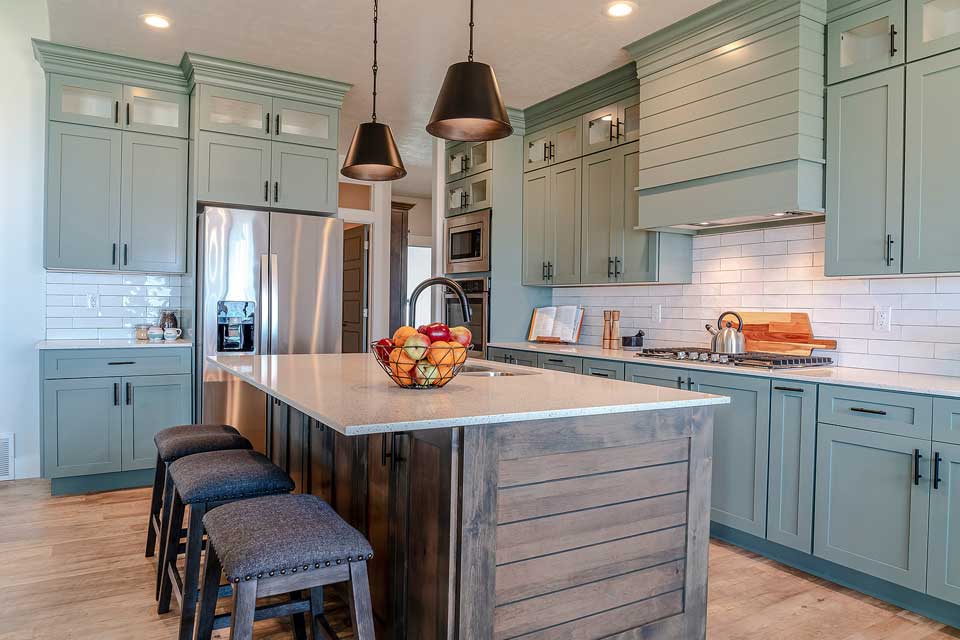 Host bigger dinner parties
There are two great ways to make use of an island to increase your seating space. You could either install a traditional island with a table attached to it – so you can prep the meal and talk to your guests at the same time! – or opt for an island with recessed cabinetry underneath it to make it easier to seat your friends and family there.
The former offers some wonderful opportunities for contrasting the finish of your island worktops with that of the table, or matching them if you prefer a more coordinated look. The latter has the added advantage of creating the illusion of more space, ideal if you're extremely keen on the idea of an island, but don't want it to look too bulky.
Relocate or add appliances
Many people opt to move their hob and/or oven to their new island, making the centre of the room the hub of all cooking activity. If you're considering a contemporary design, you can create an island where your cooking appliances can be hidden away behind doors that match your cabinets when they're not in use, making for a sleeker finish. Alternatively, you can keep your cooker in full view and choose a work surface and/or cupboard doors/shelving that contrast nicely with it.
You could also relocate the sink to your island, but be sure to keep it clutter-free at all times – if the island is going to be the centrepiece of the kitchen, you don't want visitors' eyes to be immediately drawn to any unwashed dishes sitting in the sink!
It's possible to fit an island that has only cupboards, shelves or both – the right option will depend on what it is you want to store there. It's worth considering a practical yet aesthetically-pleasing hanging rack to go over the island. This would be ideal for extra pots and pans, as well as for drying herbs and hanging long strings of garlic.
Your kitchen designer should be able to advise on other clever ways to maximise the storage space offered by your island, depending on the type and size of the unit in question.
Create more worktop space
If you intend to simply use your island as an extra work surface, you'll want to focus on the quality of the worktop, whether it's made from solid wood, luxurious marble or durable composite stone. Matching it to the other surfaces in the room is the obvious (and practical) choice, but you could create a truly stunning centrepiece by installing a worktop with a contrasting look.
It all depends on how adventurous you want to be; if in doubt, consult a designer and see what they think!