Clean and clear window glass not only enhances your home's appearance but also allows natural light to brighten your living spaces.
Achieving a streak-free shine on your windows may seem like mission impossible, but with the right tools, techniques, and cleaning solutions, it's entirely achievable.
Let's see what's the secret to streak-free windows.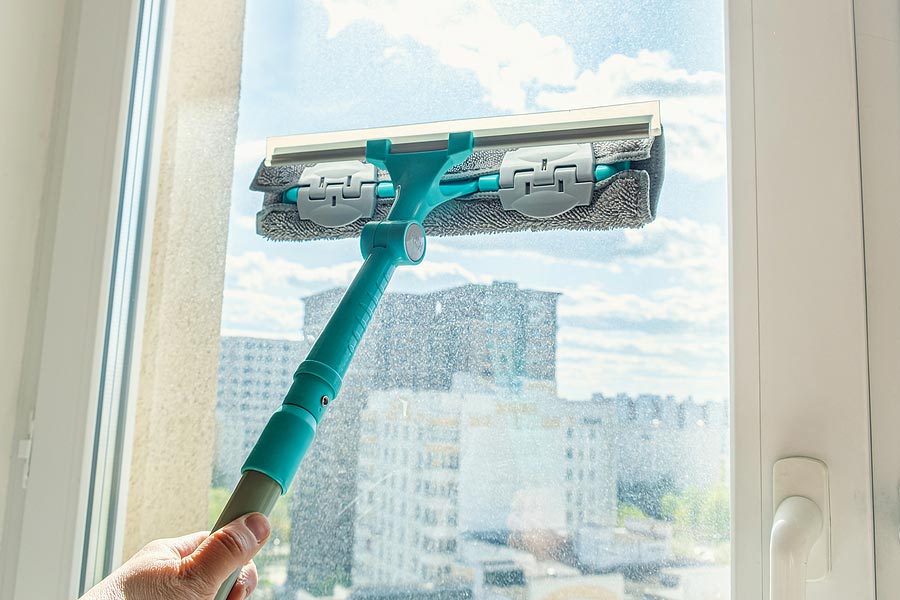 Gathering and Preparation
When cleaning window glass, the key to a streak-free shine is preparation. Before you start cleaning, you must gather all the necessary supplies for the job.
If you want a streak-free cleaning, you'll need the following tools:
A bucket;
Squeegee;
Lint-free cleaning cloths or microfiber towels;
A scrubber or window-cleaning brush;
A sturdy ladder for hard-to-reach windows;
An extension pole for elevated windows.
Choosing the Right Cleaning Solutions
You must pick the proper cleaning solution to avoid streaks and detergent residue on your windows.
Consider using the following options:
Commercial glass cleaner;
Homemade cleaning solutions (vinegar and water or dish soap and water);
Rubbing alcohol for stubborn spots.
Make sure that the products you use are safe for windows; if you're not sure, contact a professional window cleaning service for advice. Read the directions on each product before using them, and don't forget to wear protective gloves and safety glasses when handling any chemicals or cleaners.
Before cleaning your windows, prepare your workspace to ensure a smooth and hassle-free process. It will save you time and effort and make cleaning less stressful.
Here's what you need to do:
Remove window coverings and obstructions. Start by taking down curtains, blinds, or any other window coverings that could get in the way of your cleaning. Clear the window area of any obstacles, such as furniture, plants, or decorative items.
Protect the window frames and sills. To prevent damage to your window frames and sills, place towels or absorbent cloths along the bottom of the window sill. They will catch any drips or spills during the cleaning process.
Step-by-Step Streak-free Window Cleaning
Now that you've gathered your supplies and prepared your working area let's dive into the window cleaning process following these easy steps:
Pre-Cleaning Inspection and Dusting
You'll do a little pre-cleaning before you do the big scrubbing and wiping. As a start, inspect the window glass for any large debris or cobwebs. Remove them with a clean rag or a brush.
Dust the window frames and sill to prevent dirt from falling onto the freshly cleaned glass later. You'll also avoid leaving smudged lines on the window sills when you brush against them with the squeegee and cleaning cloth.
Cleaning Exterior Windows
Cleaning exterior windows is tricky due to their exposure to dirt, dust, pollen and other airborne pollutants.
To avoid the risk of falling from heights, make sure to use a ladder or sturdy platform for support. Begin by washing the window using a soft cloth or sponge with either mild soap and water solution or glass cleaner in circular motions.
This should be followed by thoroughly rinsing off the window with clean water, such as a garden hose, and then drying it off with a lint-free cloth, also in circles. This will ensure that your window is streak-free when dry.
For tougher stains like bird droppings and tree sap, white vinegar mixed with warm water in equal parts can prove quite effective at removing these without damaging your window's surface, unlike harsher chemicals.
However, if this doesn't work, you should seek professional assistance from your local window cleaners, as these stubborn stains often require specialised equipment to remove correctly.
Once all your windows have been washed, rinse them off properly before drying them off again with a lint-free cloth. This eliminates any leftover soap residue, which could leave behind streaks when dried unevenly with paper towels or similar materials unsuitable.
If any spots remain after rinsing, repeat the process until they disappear before doing another round of thorough drying afterwards.
With these tips in mind, you should feel more confident tackling even the most challenging grime on your windows while still keeping them looking spotless! So stock up on supplies and get ready – sparkling clean windows await!
Cleaning Interior Windows
Interior window cleaning can be a straightforward task with the right tools and techniques.
Preparing the necessary supplies, such as microfiber cloth, mild detergent, warm water, and a squeegee, is the first step to success. With your materials ready to go, start at one of the upper corners of the window and use circular motions when wiping down each pane.
After that, use your squeegee continuously from top to bottom before finishing off with an absorbent cloth or paper towel to dry off any remaining moisture around frames and sills.
Additionally, keep an eye out for excess liquid that could cause spotting on other windows or surfaces; clean up any spills immediately!
If you're having trouble with tough spots or stains, try using white vinegar mixed with warm water; this should do the trick! Following these steps will help make interior window cleaning easy and efficient.
Cleaning Stubborn Window Stains
Sometimes, even though you put much effort and stamina into cleaning your windows, there will be tougher stains to remove. You have to keep in mind that different stains require different approaches.
Here's how to handle common window glass stains:
Water spots and mineral deposits. Mix equal parts water and white vinegar for spots and mineral deposits caused by hard water. Apply the solution, let it sit for a few minutes, and scrub with a soft brush.
Stubborn grease and grime. Use warm water and dish soap to tackle stubborn grease and grime. Apply the solution, scrub gently, and rinse thoroughly.
Insect residue and bird droppings. For insect residue and bird droppings, dampen the affected area, let it soak for a few minutes, and then gently scrub with a soft cloth or sponge.
Nicotine stains. Nicotine stains can be challenging to remove. Try a mixture of vinegar and water or a commercial nicotine stain remover. Scrub the stained area and rinse thoroughly.
Cleaning Window Tracks and Sills
Remember to clean the window tracks and sills to maintain a fresh look for your windows.
First, use a vacuum cleaner or a small brush to remove dirt, dust, and debris from the tracks and sills.
After that, use a damp cloth to thoroughly wipe down the tracks and sills. For stubborn grime or mould, use an old toothbrush or a small scrub brush to scrub the crevices.
Consider applying a mildew-resistant sealant to the tracks and sills to prevent mould and mildew growth. This applies to sash windows as well.
Troubleshooting Common Window Cleaning Problems
Troubleshooting common problems is essential to maintaining the streak-free shine of your windows. As any experienced window cleaner will tell you, even the most meticulous cleaning regimen can be undone by lint, dirt, dust, fingerprints, dried cleaning solution residue, and more.
The first step in troubleshooting any problem is to identify it. If you're seeing streaks on your windows, then it could be due to one or more of these factors:
Lint from drying clothes too close to the window;
Dirt that has accumulated over time;
Dust that has settled on top of or inside the window;
Fingerprints left behind by people pressing against the glass.
To remedy these problems, you'll need to identify which one(s) are causing the streaks and take steps to remove it/them. For example, if lint is an issue, you should move your laundry away from the windows before starting your cleaning routine.
Another factor in troubleshooting common window problems is selecting the right cleaner and cloth combination for your window type and degree of dirtiness.
For regular dusting and cleaning, use a mild detergent with warm water or white vinegar mixed with warm water for tougher stains. Microfiber cloths are ideal as they leave fewer streaks than other materials like paper towels or newspapers.
You should also choose a time of the day when there is less direct sunlight (like an overcast day or evening) so there isn't too much glare while cleaning.
Finally, it's important to avoid using abrasive tools like steel wool as these can easily scratch glass surfaces while leaving behind residue, which can cause further streaks when drying off moisture after cleaning.
Be sure to use soft-bristled brushes instead, as these can gently remove dirt without damaging glass surfaces while still providing enough scrubbing power for stubborn spots that won't come clean with mild detergents!
Tips For Keeping Windows Clean Longer
Window cleaning is a tedious chore on its own. Especially if you want streak-free results.
However, keeping the windows that way for any length of time can be even more challenging. Fortunately, with the proper measures and techniques that even the professionals use, you can reduce the time spent cleaning your windows and extend their sparkling life!
One way you can protect your windows is by installing window screens to keep dirt and debris out of your home. Doing this will prevent build-up on glass surfaces and reduce scrubbing needed for streak-free results.
Additionally, when wiping down the windows, use microfiber or soft cotton cloths rather than paper towels, as they may leave lint or streaks after cleaning.
If you're looking for an eco-friendly option that won't harm the environment, try natural window cleaners like one part water mixed with one part white vinegar (or ¼ cup white vinegar diluted with 1 gallon of water).
This solution will effectively clean most types of glass without leaving any residue behind. Furthermore, applying a sealant around your windows is another great way to prevent dirt from accumulating.
Professional-grade sealants are available at hardware stores, or you can make homemade solutions using ingredients such as beeswax, paraffin wax, soap flakes and turpentine oil, which all have natural protective properties against dirt and moisture build-up.
Finally, when cleaning your windows, remember never to do so in direct sunlight – cleaning agents may evaporate too quickly before they can be wiped off properly! With these tips in mind, you should have no problem keeping those panes shining bright!