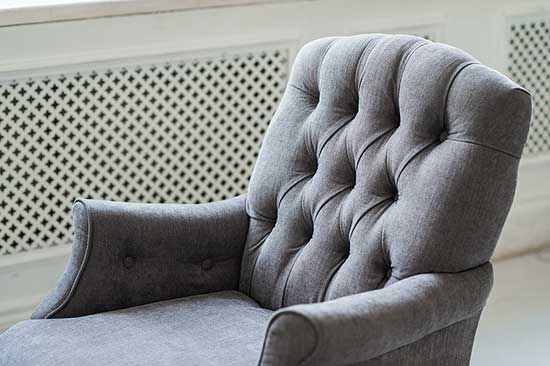 Have you thought about revamping pre-loved furniture pieces? We all have a piece of furniture that we have a personal connection to that makes it priceless. So instead of throwing it away, reupholster it instead! In this blog post we will show you how much it costs to reupholster four different types of furniture.
Don't throw away your vintage pieces, find out about the process of reupholstering. In this article, we discuss the factors to consider and the eventual cost. From personal experience, it really is worth it to see your prised piece of furniture take on a new meaning.
Reupholstering is the process of removing the current fabric from your furniture and replacing it with new fabric. The goal is to revitalize an old piece of furniture and make it look new again. This process can be done on many different types of furniture including chairs, sofas, ottomans, and headboard.
There are a few factors that you need to consider before reupholstering your furniture. The first is the type of furniture that you have. The second is the fabric that you want to use. And the third is the cost of labor.
Reupholstering is definitely a worthwhile investment; It's so much better to see a well-made vintage piece of furniture given a second chance at life rather than forking out money on boring, generic manufactured pieces.
For example, a sofa will cost more to reupholster than a chair because it is larger and has more structure.
Below are the top 3 things to consider when reupholstering an old piece of furniture.
Depending on the fabric and construction, a large sofa might take three to seven days to complete. An antique, vintage, or modern sofa, for example, will have different time requirements. If you want a detailed, upholstered sofa, it might take a bit longer. But if you're simply looking for a new fabric to cover an existing piece of furniture, the process can be much quicker.
There are also different skills applied to different furniture pieces like a sofa for example. The furniture needs stripping back, might need frame repairs, maintenance if any parts need fixing, getting the internal padding like foam, plus the final step of meticulously fitting the fabric and finishing it off. There are different levels of complexity to every furniture piece so be aware of that!
The cost of your project will depend on how much time the upholsterer needs to spend on your piece and every attention to detail. It can be incredibly labour intensive so that too, will have an impact on how much you'll end up paying.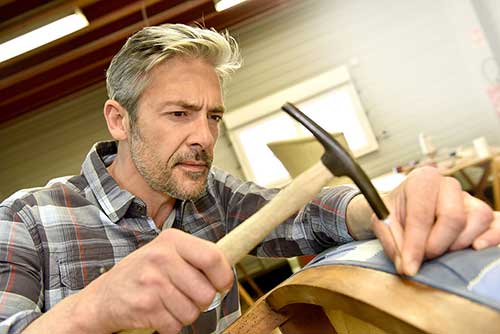 Upholstery certainly isn't an easy craft to master, taking years of practice to reupholstery certainly isn't an easy craft to master, taking years of practice to perfect. There is a lot that goes into it so a lot of it is paying for the experience and time revamping your preloved furniture. Be sure to look at examples of the upholsterer's work to get an idea of their skill level and style. If you're looking for a very specific style, make sure that the upholsterer you choose is able to deliver on your vision.
It takes a lot of skill to be able to pattern match fabric so that it all flows together nicely. If your piece of furniture has a lot of curves, it will be even more difficult to find a good pattern match. You might have to sacrifice on this if you're working with a tight budget. There is a lot that goes into it so a lot of it is paying for the experience and time revamping your preloved furniture.
When you buy furniture from a store, you have a set range of styles and fabrics to choose from, but when you reupholster an item, your options are practically limitless. On the high street, you would never receive the same variety and selection. Upholstery might provide exactly what you want, but it can also help you stretch your budget a bit further.
You can go for a completely different look than your old piece of furniture by choosing a new fabric and style. If you want to keep the same general look, you can simply change the fabric. Or, if you want to make a drastic change, you can even change the shape of the furniture. For example, you can add tufting to a chair or change the legs on a sofa.
The possibilities are endless when it comes to reupholstering furniture, which is why it's such a popular option for people who want to update their homes without breaking the bank.
Reupholstering is a great way to give new life to an old piece of furniture. It's also an eco-friendly option since you're essentially recycling furniture. And, it can be less expensive than buying new furniture, especially if you choose to do it yourself.
However, there are a few things you need to consider before you reupholster furniture, such as the time commitment, the cost, and the skill level required. But, if you're up for the challenge, reupholstering can be a fun and rewarding experience.