It can be difficult to look after your Indian sandstone paving adequately as it can be easily damaged. Even something as simple as shovelling debris from your paving can cause it to become scratched, cracked or dislodged. It's especially important that you take good care of your Indian sandstone paving during the winter months. So how can you take care of your paving both during the winter and the rest of the year?
Clear & clean your Indian sandstone paving slabs
You should regularly check your paving for weed growth or any other foliage that's randomly grown on or up around the paving slabs. If you do spot any, gently pull them up or trim them down so that they aren't overhanging the slabs at any point.
It's also important that you sweep the paving to remove dirt and debris that shouldn't be there as this will help to prevent discolouration. It will also discourage mould growth which furthers the prevention of discoloured as well.
If you've cleared all dirt and debris from the slabs, and if you do find any marks or areas that are discoloured, you can clean it off using warm, soapy water and a non-abrasive sponge or brush. Once you're satisfied, clar the soapy water away with fresh, clean water and wait for it to dry. If you cannot clean your Indian sandstone paving yourself, then you should consider patio cleaning and patio sealing services from Total Pressure Cleaning to help prolong the life of your Indian sandstone paving.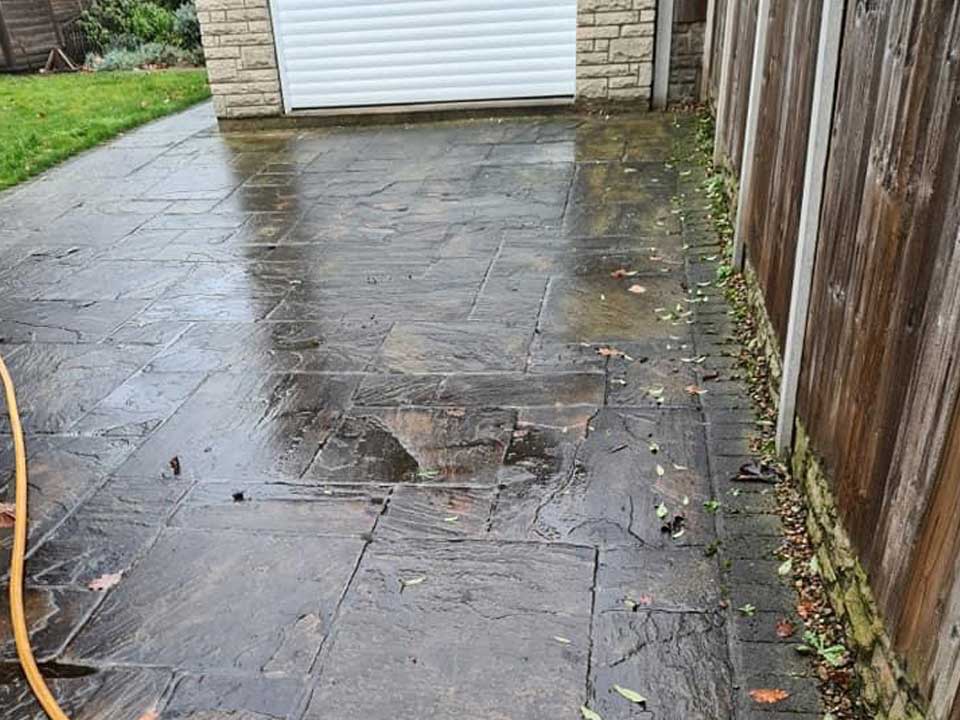 Seal your Indian sandstone paving to prevent frost damage
As previously mentioned, Total Pressure Cleaning will be able to provide patio sealing services to customers throughout Doncaster, Sheffield, Chesterfield, Hull and the surrounding areas. It's important that you do not try to seal your driveway yourself as specialist products need to be used, especially for a material such as Indian sandstone.
Weather sealing your patio will help to protect it from the elements, including frost, wind, rain, ice and snow. It will also help to keep mould, algae and unwanted foliage at bay, so you'll find that you're weeding your patio far less and it'll also help to maintain its colour as opposed to going green.
If snow falls, take care when shovelling it
If snow falls on your patio over the winter, then make sure you'#re careful when shovelling it up and moving it on. A metal shovel can cause your slabs to become scratched, chipped or even crack, so make sure you're using more patio-friendly tools to remove snow. Opt for plastic shovels as opposed to metal ones. You might even be able to find a plastic shovel with rubber edges to further prevent damage to your patio slabs.
De-ice your Indian sandstone paving with care during the winter
Salt is the go-to choice for homeowners looking to de-ice their driveways, paths and patios, but salt is extremely corrosive, especially when combined with water and this mix could damage your Indian sandstone paving.
Also, when the ice melts, the salt water can seep down in between the slabs and cause the mortar to weaken and degrade, causing the slabs to become loose over time. Loose slabs can also cause trips and falls in and around your garden, so it's imperative that this is prevented.
You'll be able to buy de-icer suitable for patio paving slabs from DIY stores and garden centres, all of which are far more friendly when it comes to de-icing your paving, mainly because they won't contain corrosive ingredients. Always read the label before use and check that it's alright to use on Indian sandstone paving.
Total Pressure Cleaning are proud to provide customers throughout the Midlands with patio cleaning and sealing services, as well as roof cleaning, pressure washing services and commercial services, including gum removal, brickwork cleaning, cladding cleaning and more. For more information about how they can help you today, whether you're a commercial or domestic customer, get in touch with a member of their friendly, knowledgeable team today – they're always happy to hear from you.