If you are looking for the perfect sanctuary during the summer time, garden log cabins are a great choice. Imagine walking into your backyard to a sturdy and well-built garden log cabin that can serve many different purposes. You will be amazed at all of the options that you will have with a good log cabin. You can choose to have a sanctuary that will fit your lifestyle perfectly.
So how do you create the perfect log cabin for your backyard? If you want a good idea, look at what others have done. Look at all of the different options that they have and make a decision about which ones are best for you. You will find that there are many different ways to put everything together in order to get the desired outcome.
Garden log cabins should be made out of waterproof materials like treated wood or other materials that will not be damaged by the outdoor elements. Log cabins should last for many long years without needing any extensive repairs. They can be made as big or small as you want them to be. Large luxurious garden log cabins or small log cabins are a great investment to make depending on your needs and the amount of space that you have available. You can also choose to have no windows in your log cabin or many windows. Energy efficient windows can help you keep the temperature cool and steady during the hot summer months. You can choose a log cabin that has one door or a couple of different doors. When purchasing directly from a reputable manufacturer of garden buildings, your log cabin can be customised so that they perfectly meet your requirements.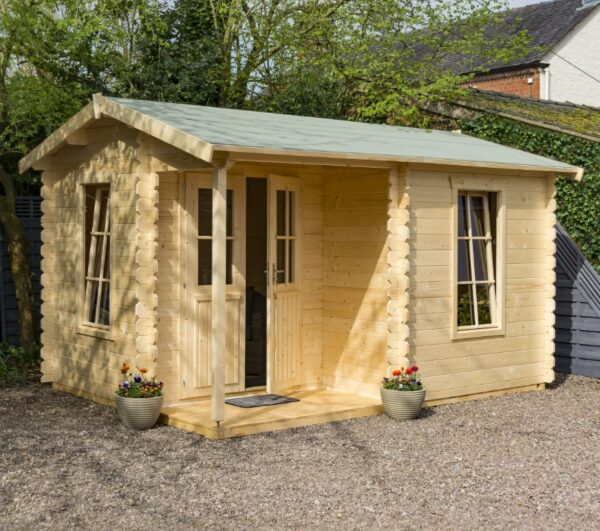 The most important thing that you will have to do is decide what exactly you want your garden log cabin to be. You can choose from many different models and make the perfect choice for yourself. If budget is a factor, know that there are great choices available at affordable prices.
Garden log cabins make
peaceful garden office spaces
. If you're the type of person who likes to stay in touch with co-workers and clients as much as possible, you can use a log cabin for your office. You can create an office space that allows you to take care of all of your important business without having to go into a traditional brick and mortar building every day.
They also make a great additional dining room area when you have a barbecue or party during the summer time.
If you have a lot of guests visiting you in the summer, a garden log cabin can also be turned into a spare bedroom that will be the perfect sanctuary for your visitors.
If you want an even more special room, there are log cabins that have built in saunas or hot tubs. It's easy to get excited about the idea of having a garden log cabin in your backyard.
Security is important for garden log cabins too. You want to have a log cabin that has doors that lock so that you can feel at ease no matter what. If you have windows in your log cabin, they should lock too. If you are looking for a retreat, garden office, or guest room, garden log cabins can be a great investment to make.
When you choose one that is designed and built by a reputable seller, you can have everything that you want without breaking the bank. You will also find that it gives you all of the space and privacy that you need when entertaining guests or just relaxing.
If you are looking for that perfect escape, then a garden log cabin can be exactly what you need. They have become more popular over the years and now there is a lot of variety to choose from. You can customise your log cabin in just about any way that you want to.