External doors are the most important doors within your home. They are the main points of access to your property, so it is vital that they are secure, weather-proof, and that they give your home some added curb appeal.
Although there are many styles of front door available, the majority of front doors are made from either timber or UPVC, but there are also Composite doors available. Each material has vastly different properties, meaning that both have their own advantages and disadvantages.
So if you are looking to replace your front door, but are unsure whether to get UPVC or solid wood doors, here is a quick guide that will help to inform your decision.
UPVC has become the most popular material in the manufacturing of modern doors, largely due to its great insulating qualities and relatively low need for maintenance. You can now get UPVC doors available in a simple white, woodgrain effects, and in plain colours, with a wide choice of operating handles and locks that will give a different level of security.
UPVC doors are very resilient to the weather, and will not suffer from rot or decay. They are also great for reducing heat-loss, as they can accept double, even triple, glazing. UPVC doors are equally excellent at minimising draughts, as they can have a weather-proof strip built into the frame.
Although there are several benefits to having UPVC front doors installed in your home, they are still prone to a couple of problems. The biggest issue is that they can be scratched easily and will subsequently need to be repaired by a professional. Although they will not need to be frequently maintained like wooden doors, they cannot be fixed cheaply.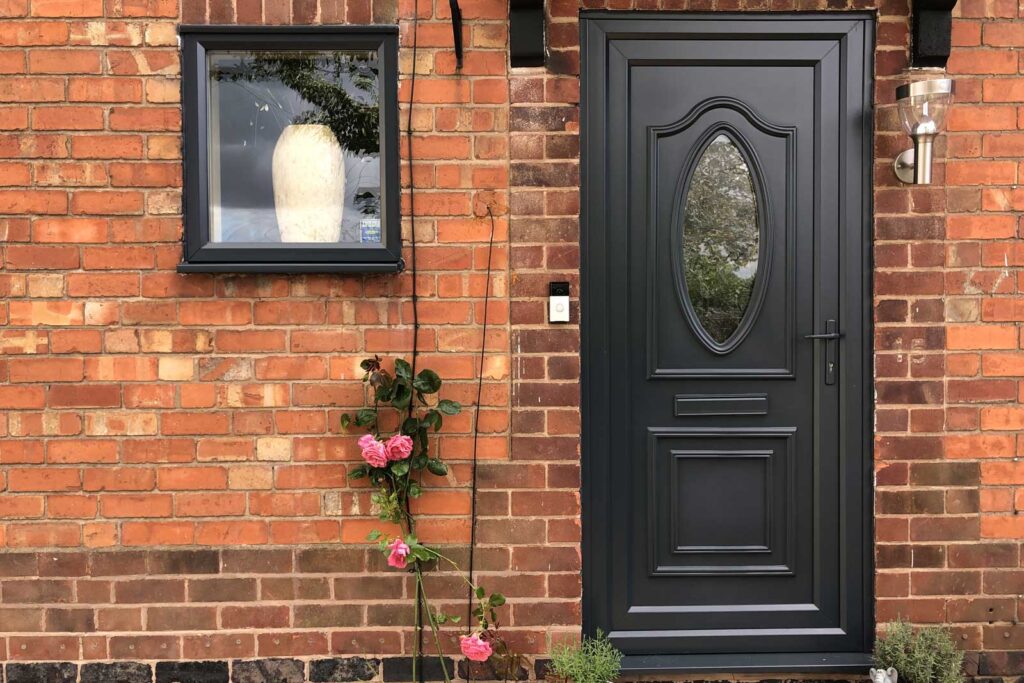 Timber is a great natural insulator, but it can rot if it is not treated with the correct preservative. On average, solid wood doors need redecorating about every five years, but microporous decorative finishes allow the wood to breathe, ensuring that they only need to be maintained approximately every seven years. You can get Varnishes or outdoor paints from companies like Solid wood is also quite simple to repair on a DIY basis. Although timber doors need to be preserved, it can be done relatively easily and cheaply.
One of the difficulties with choosing a front door made from timber is that the draught stripping is not as effective as UPVC. Although it is an excellent insulator, solid wood doors are not always as robust against the elements. Timber doors also tend to be more expensive, as using anything other than a standard frame size can rapidly increase the cost of your front door.
Composite doors are similar in appearance to UPVC doors, however there are some key differences. They are referred to as "composite" as they are made up of a variety of materials, not just UPVC.
A composite door has a sold core of sheet metal, usually steel, with a fascia made up of UPVC. From outward appearances they can be indistinguishable from a standard UPVC door, however due to their more sturdy construction they provide a greater level or security. They are harder for would be intruders to gain access to the property through this type of door.
Composite doors usually also have much more secure locking systems than a standard door. Again this added level of security helps to deter burglars from entering your home.
Due to the materials used and the added security features, composite doors tend to be more expensive than standard UPVC or wooden doors.
How much will your new front door cost?
To gain an accurate cost, you will need to consult a professional door installation company, but generally an average UPVC front door will cost approximately £550, whereas a composite door would be at least twice as much, starting around £1000. Typically a solid wood door can cost up to £1500, but a beautifully crafted timber door will certainly add value to your property.