When it comes to buying or selling a home a key element to consider is the master bathroom. In today's busy world your bathroom is your private escape, a place to think, relax and forget all about your day-to-day worries. For that reason,
luxury spa bathrooms
, have become a number one priority for homeowners everywhere. And if you'd love your own, here's how to achieve a spa-like sanctuary at home in five easy steps.
Step one on the road to achieving spa like serenity is selecting an appropriately calm and soothing colour scheme. Choose earthy, neutral tones for the flooring, walls and accessories to invoke tranquillity and a sense of nature. Tiles, wood and marble are a wonderful way to emulate a luxury spa but be sure to opt for materials in neutral shades of brown, beige, ivory and taupe.
Selecting the perfect bath is an important part of making sure you get the luxury spa bathroom that you want. If you can, create a space just for your bath and choose a freestanding tub with a small lip to place aromatherapy candles when bathing. If the room is small, a corner bath or double ended bath can create the illusion of larger dimensions. Where space isn't an object, a whirlpool bath is the ultimate in indulgence and will gently tease tensions out of tight muscles at the end of a long day, giving some of the benefits of a spa retreat with none of the expense.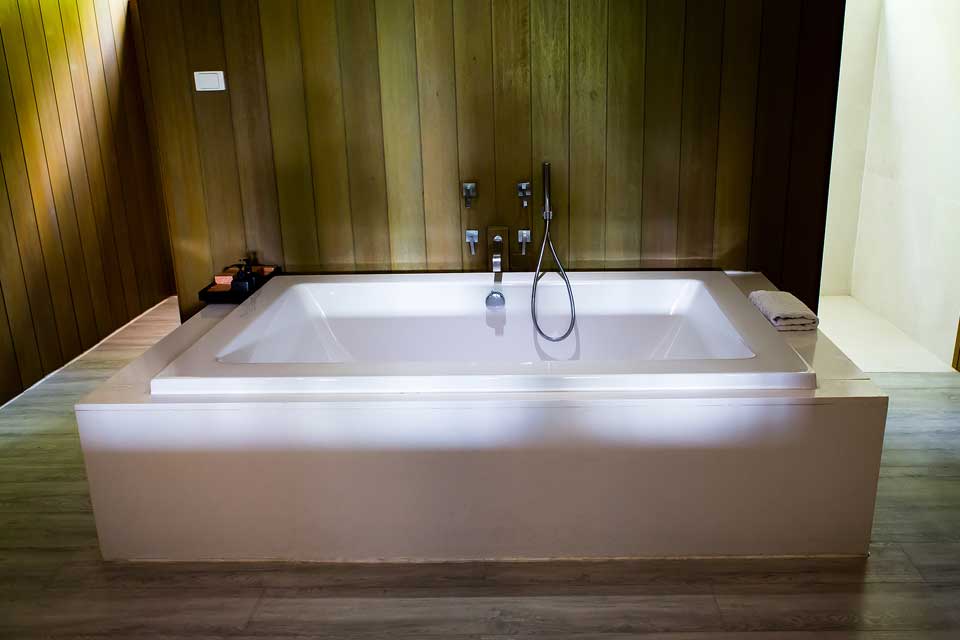 Once you have selected the colour scheme for your luxury spa bathroom and outfitted it with your ideal bath, it is time to consider your bathroom lighting. Harsh, fluorescent lighting is obviously to be avoided. To create that spa feeling, you need soft, diffused lighting that soothes and coaxes mind and body into a state of tranquil serenity. Emulating the appearance of natural light can help with this so large, ostentatious light fixtures are best avoided. Dimmer switches are a great idea and an extremely practical investment for those times where you're in a rush. For make-up purposes a mirror with an integrated light fitting which can be turned on independently when needed adds a touch of practicality without detracting from the ambience.
It is now time to select the bathroom taps, towel rails and other fine metal details for your luxury spa bathroom. The number one factor to remember is that all of these metal fittings must mesh with the neutral colour scheme of your bathroom. Your best options are either artesian gold or bronze fittings, though some brushed chrome or silver fittings will do the trick as well, particularly if your tastes run more to modern than traditional décor.
A typical spa will often have a carefully selected offering of furniture, usually in the form of a seat or recliner. A chair you can sit on while you soak your feet or a small bench, perfect for storing towels so that they are never more than an arm's stretch distance away, are savvy introductions. They are both practical but also add a touch of luxury and as they are dual-purpose, are pocket friendly additions.